List of hotels
Description
To discover
Useful Information
1 - 3 of 3 results found.
Page 1 / 1
first
prev
next
last
Hotel GOLDEN TULIP AL KHOBAR SUITES - 4 stars
Positioned next to the Bahrain Bridge King Fahd Causeway, the Golden Tulip Al Khobar Suites offers convenience to
Hotel GOLDEN TULIP AL KHOBAR - 4 stars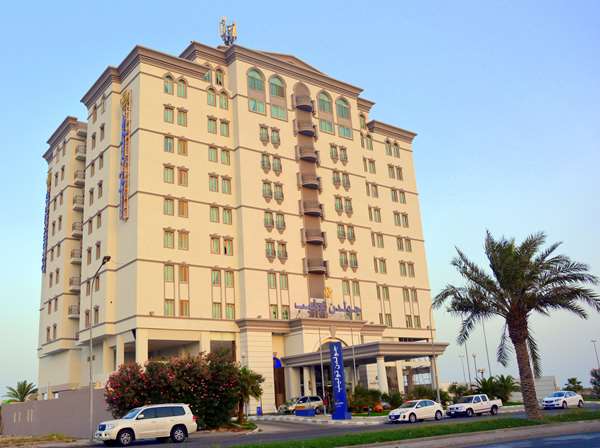 The Golden Tulip Al Khobar overlooks the deep blue waters of the Arabian Sea, situated in the beautiful modern city of
Hotel GOLDEN TULIP DANA BAY HOTEL - 4 stars
With the advantage of a prestigious location in the natural splendour of the Half Moon area, the Golden Tulip Resort
1 - 3 of 3 results found.
Page 1 / 1
first
prev
next
last
Al Khobar Tourist Information
Al Khobar is a popular centre of business and recreation for many Saudis, with its shimmering beaches and attractive Corniche. It's a pedestrian friendly, relaxed city with a pleasant atmosphere and abundance of sleek modern high rises to admire. Up until oil was discovered in the 1930's, Al Khobar was a sleepy fishing village. Yet today, there's a great deal of commerce that flows into the city, with many residents employed by the Aramco oil company. ¶ With such a bustling economy, there are a number of gleaming skyscrapers and air conditioned shopping malls composing Al Khobar's city centre. Top sights like Al-Azizia beach and Al Rashid Mall are listed in Al Khobar tourist information guides. Its wide boulevards offer a range of international franchises along with specialty boutiques to explore; and the prime location along the sun-drenched Persian Gulf makes it a top destination for scuba diving and fishing.
Things to do in Al Khobar
One of the most pleasant things to do in Al Khobar is visit the picturesque Corniche, which is often crowded with families due to the multiple children's playgrounds and picnic areas. It's a good place to just sit and watch the world go by. A short drive to the southeast of Khobar, Half-Moon Bay is another popular beach destination where you can enjoy a dip in the shallow, warm waters and clean golden sands. Shopping is a major pastime in wealthy Al Khobar, and its air-conditioned malls provide not only a breath of fresh air but also a wealth of attractions. In addition to the usual array of shops, you'll find amusement parks and gourmet food halls in major centres like the Mall of Dhahran.
Things to see in Al Khobar
If you want to get up close and personal with peacocks, camels, and monkeys, take a trip to Castle Park. The park even allows you to feed them yourself, with a small kiosk selling animal feed. For traditional things to see in Al Khobar, pay a visit to Al Khobar Traditional Village Madhina. It is decorated in authentic Saudi style with vintage cars, clothing, and accessories. Design Desert offers a range of handmade Saudi products including hand-woven carpets and antiques. There is also an art gallery on the premises displaying exhibitions from contemporary Saudi artists. As you wander the Corniche, don't hesitate to stop into the Sultan bin Abdulaziz Science and Technology Centre, consisting of seven halls displaying a range of scientific models and artefacts.
Al Khobar Transport
The closest airport to Al Khobar is King Fahd International Airport in Dammam, which is a driving distance of 55km outside of the city centre. Many travellers also choose to fly into Bahrain. Dammam's train station is only 15 minutes away from central Al Khobar, and there are daily buses to Bahrain departing from Dammam's city centre. Al Khobar is quite sprawling, particularly if you wish to visit Half Moon Bay or take a drive into the desert. Renting a car is ideal for getting to these far-flung sights, although taxis are also a possible form of Al Khobar transport.
Al Khobar Events
One of the liveliest annual events in Al Khobar is the Eastern Province Summer Festival, which promotes Saudi Arabia's tourist industry and features an explosion of fireworks over the Gulf each night in July. You can also listen to both traditional and contemporary songs from Saudi musicians on National Day, or enjoy the feasting and celebrations of the Islamic New Year. Religious Al Khobar events include Eid al Fitr and Eid al Adha. During the month of Ramadan, much activity during the day ceases but the Corniche comes alive at night with food vendors hawking their wares to hungry residents.
Restaurants in Al Khobar
Restaurants in Al Khobar are widely regarded as some of the best in Saudi Arabia. Don't miss local specialties like Chicken Shawaya, accompanied by steamed rice. Shawarma and falafel are ubiquitous, and you can also enjoy an abundance of freshly caught seafood straight from the Gulf along with spicy hot tea. ¶ The busy area near the waterfront is an ideal starting point when you start to feel hungry, as you'll find a number of high quality cafes and sit-down restaurants to choose from. These range from a traditional meal of falafel and vegetables to Western-styled pizza and Asian eateries.